Product Description
Clay Smith Cams Famous Mr. Horsepower Logo Fuel Pressure Gauge
0-15 PSI Pressure Gauge Liquid Black Face 1/8" NPT With your favorite Mr Horsepower on the Dial
Easy vent plug ensures an accurate reading every time. Features
Marshall shock-proof gauges have rugged construction and are liquid filled for vibration dampening.
Case OD: 1.6" (40mm)

Bezel OD: 1.75" (45mm)

1/8" NPT Center Back Connection

Rugged Stainless Steel Case

Brass Internals

Silicone Filled for Vibration Dampening

Acrylic Lens
Accuracy
1.5" Direct Mount Liquid Filled Gauge Instructions
Use wrench on HEX to tighten/loosen. DO NOT tighten/loosen by turning gauge case. Damage to the
gauge may occur and warranty will be void. Gauge connection is 1/8" NPT. Test connection for leaks. If a
leak is detected, determine the cause of the leak and repair. DO NOT operate if a leak is detected.

WARNING: Failure resulting in injury or damage may be caused by pressure beyond top of scale, excessive
vibration or pressure pulsation, excessive instrument temperature, corrosion of the pressure containing
parts or other misuse. DO NOT USE ON OXYGEN SERVICE.

0-15 PSI Filled Gauges
If the gauge gets hot we recommend cooling or venting the case before taking a pressure reading to ensure
an accurate reading.

Cooling the Gauge
You can reduce the pressure buildup inside the
gauge case by wrapping the gauge case with a cold,
wet towel. Once the temperature of the gauge is at
ambient temperature it will read correctly.

Venting the Gauge
Venting is easy to do and takes seconds. To vent the
gauge carefully push the side of the vent plug (the
part under the plug lip) with your thumbnail to
equalize the gauge case pressure with the
atmosphere (reference pressure). Do not remove
the plug. See photo to right for an illustration of
how to vent the gauge.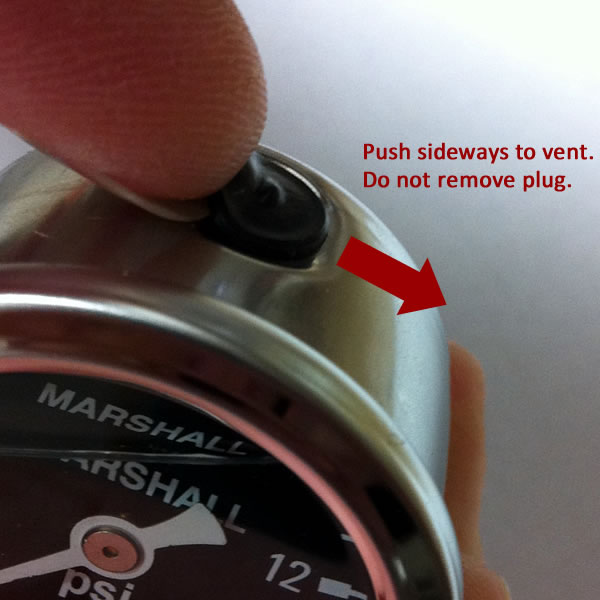 Why do I need to cool or vent the gauge?
All mechanical liquid filled gauge cases are sealed (to keep the liquid in) so as they heat up pressure will
build up in the case (approx 1psi for every 30-40F temperature change). This case pressure exerts a force
on the mechanical movement and offsets the actual process pressure. This effect is typically small and
therefore is only noticed when measuring low pressures (i.e. on a 0-15 psi gauge). Venting or cooling the
gauge reduces excess internal pressure and ensures an accurate reading.
Product Videos
Custom Field
Product Reviews